First off, thank you so very much for your support and curiousity! Please use the below options for all of your contact and FAQ needs. :)
- Hunter (ZabaCards/ZabaTV)
ZABACARDS
P.O. 1351 Eau Claire, WI 54702-1351
UNITED STATES

Largest Selection
of custom cards on Earth
10% Off
For repeat purchasers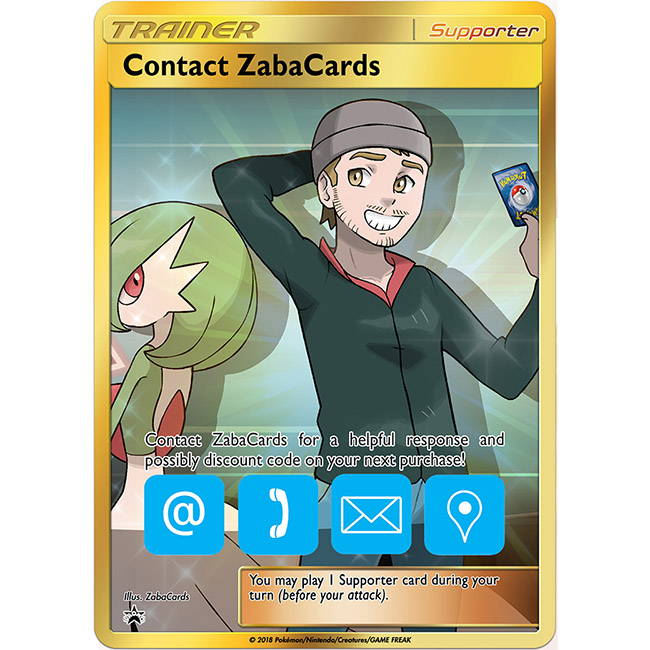 Where is my order?
Processing/Receiving Orders
Each order placed is received instantly on my side. Cards are MADE TO ORDER. Meaning every order is made after point of purchase. I work a typical 8am-5pm job and produce these custom cards in the evening. Typically with the busy-ness of life I try to produce many cards for orders in one sitting to save time. This is typically when I am not watching my toddler son, Ender. As such, orders will be processed in a maximum of a 1-week timespan following an order placement, though typically much, much less. I then ship these the following day.
Shipping Times
You will receive notification of shipment when I "Fulfill" the order. This means your order is set to ship and will within 24 hours of this notification. Shipping times vary drastically by country. I ship from the central United States. Expect ~1 week for domestic U.S. up to 2-3 weeks for select countries. Orders under 4 cards are shipped via standard envelope and stamps. Orders over 4 cards are shipped via larger hard envelopes.
Do you make FULLY custom cards?
One-off personalized cards
(Examples: Make me a supporter card, help me propose to my lover, make a Shadow Pikachu!)
As a full time customizer I am capable and willing to produce nearly anything conceivable. Pricing will vary depending on project and quantity, but in general I prefer that you have art in hand that I may convert using my templates into cards. If you don't, we can still work something out, I will just advise you towards a partner of mine depending on the nature of the card to acquire said art. Please contact me using the options above and your full plan to begin.
Supplier Level/Manufacture my card for me!
(Examples: Sell your own arts on eBay, add something special to your collection, or host a giveaway!)
I am able to offer this service as well. Large quantities welcome. I can print and make your finished card arts into customs FOR YOU. Of course, the more you buy the lower per card price I can offer. I've done this successfully with many partners and continue to, to this day.
How do I partner with you and what do you payout?
Overview
When I started this, I was VERY fortunate to come across some extremely high skill and charismatic artists. Each with a diverse skill-set and community. Together, we made ZabaCards a reality. As the community expands and blank spaces artistically are filled in by new artists I'm always on the lookup for more talent to add to the group. (It doesn't even have to be cards!) We split profits and there are massive bonuses awaiting at select sales milestones ;)
What does it take?
I am currently seeking artists that offer something our existing network DOESN'T OFFER. Can you do something we can't, or on a whole other level? Let's talk. However.... that's not the only way (see below).
Fakemon Communities
OK, so you make a Fakemon or new region and you want to partner up and produce a set for your these. What do we do? Well, a few things. 1. You can get preorders for cards. Once you hit 10 for any single card I will produce it and sell at a standard rate, else there are card design fees (see personalized cards section) 2. You can PAY the card design fee and use me as your supplier! 3. You can continue building your community. At some point we will fall into a win-win territory with social reach as payment for design time and can partner up! Keep at it. Anything is possible :)